Purchasing accounting consolidation software reduces the manual work of consolidating financial data across multiple entities. This frees up the time of your accountants, helps you close faster, and reduces errors within your data.
Therefore, more and more companies are adopting modern accounting consolidation solutions to assist their financial data teams.
If you're looking to purchase accounting consolidation software, here are a few of our top picks.
SoftLedger
Traditionally, consolidating financials for multiple entities required companies to either:
Bolt together multiple QuickBooks accounts in an Excel spreadsheet.
Take the leap to purchase a robust system like NetSuite or Intacct.
Unfortunately, neither solution is ideal for a few different reasons.
If you choose the QuickBooks route, your accountants must constantly update the Excel spreadsheet and consolidate all of the different entities into one. Therefore, it's quite likely that errors will arise or that you'll close late.
If you have the financial resources to purchase a robust system like NetSuite or Intacct, prepare to wait six months for the system to be up and running, and expect to invest thousands more into maintaining and operating the system.
Fortunately, SoftLedger now exists as the "Goldilocks" solution to this problem as it isn't too complex, yet still automatically consolidates all of your financial data into one general ledger.
Automatic Financial Data Consolidation in Near Real Time
First, SoftLedger automatically consolidates all of your entity's financials into one single ledger, which updates in near real-time. With traditional multi-entity accounting software, you don't know how much you spent in January until the end of February due to the slow processes of these tools. This is a major issue as your company won't be able to make smarter investment decisions without current data.
However, as soon as an accountant enters data into SoftLedger, it appears immediately in the general ledger for all entities. Foreign currency exchange rates are pulled with each transaction via API and intercompany entries are automatically eliminated. This removes the need for a separate consolidation process, saving time and reducing errors.
Saves Time and Reduces Errors
Using a solution that updates automatically greatly reduces the amount of time that accountants spend performing data entry, and it also improves accuracy by reducing reporting errors.
For example, Cinchpoint, a software company that specializes in finding and securing sensitive data for various clients uses SoftLedger as it helps them scale while maintaining organizational efficiency.
Before SoftLedger, it took them weeks to manually import necessary accounting data into spreadsheets and they had a full-time employee dedicated to client valuation.
However, by incorporating SoftLedger into their accounting process, they were able to win back those weeks, close faster, and make better use of employee time.
Reduces Complexity and Speeds Up Implementation
SoftLedger offers only the minimum features that companies need to keep their financial data up to date, making it much easier to implement. In fact, most clients can implement SoftLedger in a matter of weeks, as it's lightweight and user-friendly.
SoftLedger also connects easily with other systems as its architecture is fundamentally different.
Specifically, the entire system is programmable via our API, similar to how an end-user uses our application. Therefore, SoftLedger's API connects to other systems in the same way that our user interface works.
In contrast, the APIs for other solutions like NetSuite and Intacct are more limited. Only certain features can be programmed via API and these applications use older API architecture styles. This means integrations take longer to implement and they're more difficult to maintain.
If you want to see SoftLedger for yourself, book a demo today.
Domo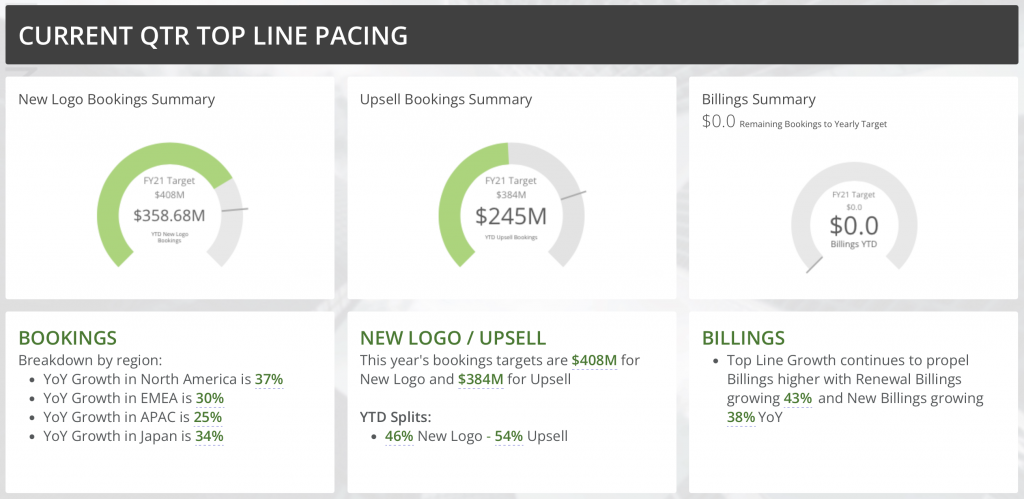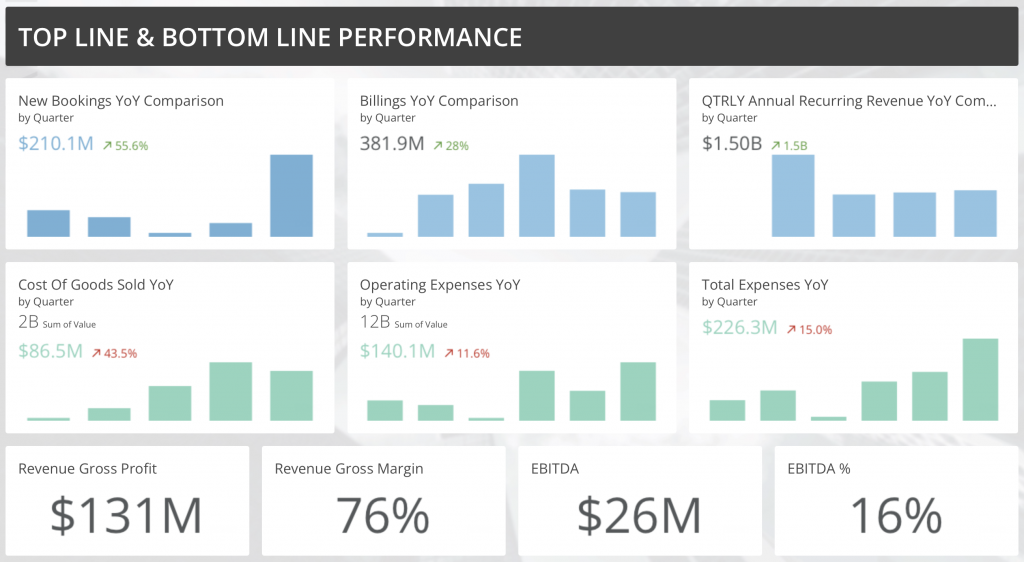 Domo is an accounting consolidation platform designed for companies that need to consolidate financial data across various teams.
They offer over 1,000 different integrations (such as Quickbooks, Xero, SAP, Salesforce, etc.) and make all of your data available in one centralized platform. This dramatically reduces the time teams spend gathering and formatting data, which improves the speed of your overall accounting process and reduces data entry errors.
Their data is also provided in near real-time, making it easy to show executives how each department is currently performing. In fact, users can even set real-time alerts for when a certain metric exceeds the parameters they set.
Domo also allows users to customize the experience with apps that make it easier to see data specific to key business questions. You can also see your P&L within the apps.
Here are just a few things Domo customers use its accounting consolidation software for:
Precise Cashflow Monitoring
Demand Forecasting and Risk Modeling
Remote Work Modeling
Economic Shock Modeling
Customer Lifetime Value
Board
Board is another software with a strong financial consolidation product that supports Statutory, Management, and Segment reporting. It helps accountants by automatically merging data from various locations and multiple general ledgers into one, easy-to-read dashboard that makes data analyzing, planning, and forecasting simple.
Therefore, you'll be able to shorten the close cycle and make better financial decisions for your business.
However, Board isn't just a time-saving tool. It also helps improve data accuracy. Thanks to complete data and process audibility, Board users can trace each activity across all entities through its in-built workflow functionality.
Another thing users love about Board is its Unified Business Intelligence and Corporate Performance Management functionality. This makes it easy for users to access financial data for future business planning and other data modeling activities.
Here are just a few things you can do in Board:
Cash flow calculation and reporting
Eliminate debts/credits and expenses/revenues within the company
Flat and Sub-consolidation models
Multiple closing periods
I/C reconciliation
Manage multiple Charts of Accounts
Planful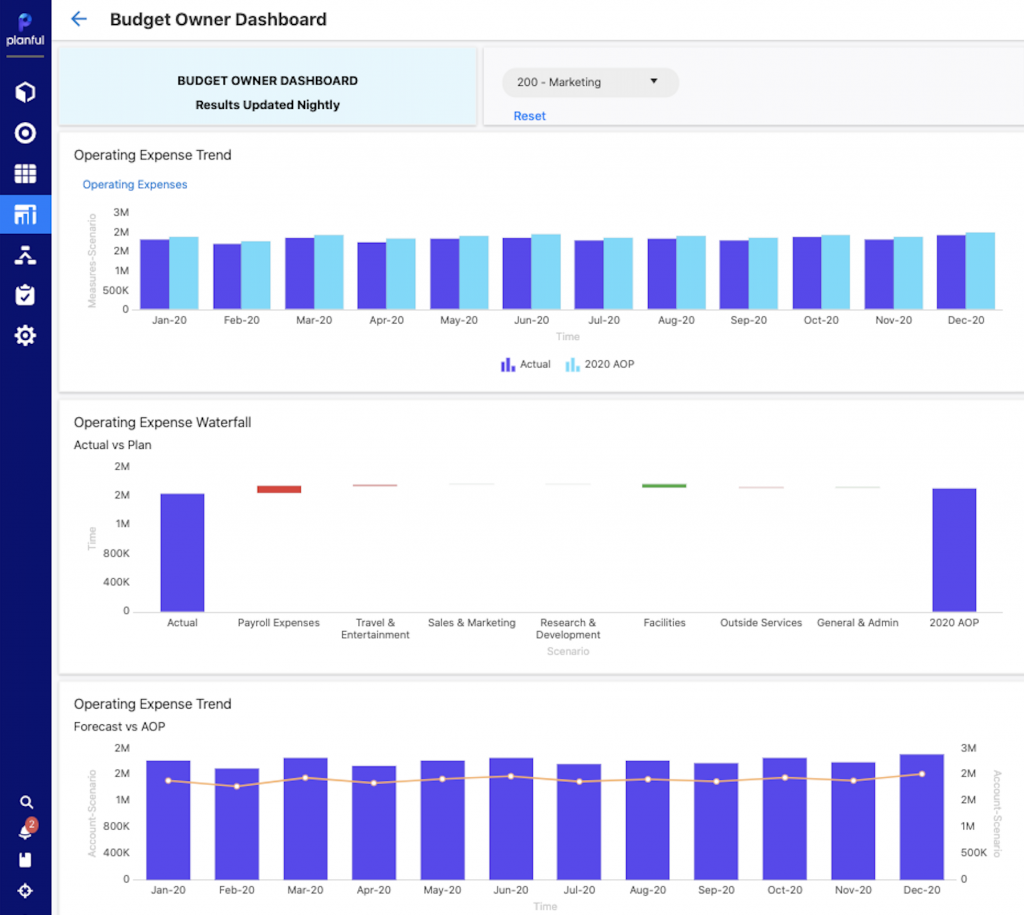 Planful is a financial accounting solution that is fast and easy to implement in your organization as it requires zero scripting or custom programming.
In fact, the entire platform is designed to provide a more user-friendly approach to accounting consolidation.
For example, its out-of-the-box journal entries and reclassifications eliminate the need for users to have complex coding knowledge. Instead, its built-in financial logic will automatically account for:
Debits and credits
MTD and YTD balances
Currency types
Assets
Liabilities
Revenues
Expense account properties
Its Consolidation Control Panel also helps users understand where they are in the close process as it provides visually comprehensible data. For example, you'll be able to see an overview of entities that have submitted and validated trial balances, finished intercompany eliminations, and processed consolidations.
Planful can also pull data from multiple ERP systems so that you can ensure goal reporting is consistent across the entire company.
If you need more flexibility in your financial reporting, Planful can help you out as they enable users to generate data in alternate hierarchies or org-by-period hierarchies. The fiscal year dates can also be customized based on when the company plans to close the books.
In addition to these key features, they offer a host of other features as well including:
Embedded GAAP & IFRS support
Currency conversion
Automatic Data Refresh
Security and audit trails
OneStream
OneStream is perhaps the most robust system that offers accounting consolidation in addition to FP&A, strategic finance, governed analytics, management reporting, and more. Therefore, it's typically reserved for larger enterprises that need many different tools in one platform.
Jumping into their accounting consolidation feature, it helps multi-entity companies close their books faster thanks to its pre-load and post-load validations. It also automatically identifies any discrepancies in the data to ensure your reporting is always accurate.
The auditing process is also painless as all data, metadata, and process changes are transparent with deep audit trails (down to the cell level) and drill-back capabilities. For complex ownership and equity pickup, OneStream comes with simple out-of-the-box support.
Cash flow reporting is also a breeze as it allows users to track detailed movements and changes.
Another reason customers like OneStream is that it has powerful intercompany eliminations. In fact, intercompany eliminations happen automatically at the first common parent in every alternate hierarchy.
This helps leaders make better decisions as they can clearly visualize how acquisitions and other investments will impact the business.
Final Thoughts
While it's certainly possible to execute the financial consolidation process manually, modern accounting software can save human resources by reducing the time your team spends doing data entry, enabling them to close the books faster.
With your team's time freed up and the books closing faster, your business will be able to make better investment decisions and grow faster.
If you need an accounting consolidation software yet don't want to make the leap to a robust and cumbersome platform, consider giving SoftLedger a try. You can book a demo today to see if it's right for your business.
Consolidated Financial Statements: Process and Tools
The Best Accounting Consolidation Software of 2022