If you're accounting involves different currencies, you need multi-currency accounting software, as manually consolidating the data is a problem for two main reasons.
First, it's inefficient, eating up hours, days, and even weeks of your accounting team's time.
Second, and perhaps even more importantly, the company won't have accurate data throughout the month. This means the organization is guessing whether or not it can afford various investments, and it won't know if a project is over budget until the month is closed.
To eliminate this issue, here are a few multi-currency accounting software platforms to improve your accounting processes.
SoftLedger
SoftLedger is a go-to platform for companies with a small team of accountants who want a professional accounting solution that doesn't require months of onboarding and training.
If you deal with multiple currencies, SoftLedger automatically applies the exchange rate to any transaction as it appears in the ledger (rather than waiting to apply it when the month closes).
By automatically applying each foreign currency's rate when it's initially entered into the accounting software, the accountant doesn't have to worry about adjusting the values of other ledgers the foreign currency feeds into. This saves the accountant team time and minimizes the chance of manual errors.
With access to accurate real-time data, leaders will be able to make more informed investment decisions and better monitor project progress.
Therefore, SoftLedger is great for multi-entity companies such as Venture Capitalists, Family Offices, Private Equity Firms, Franchises, and Real Estate companies. Additionally, globally distributed companies can benefit greatly from SoftLedger's multi-currency capabilities.
"The key point when looking for a new system was our multi-currency situation. We found some systems that were not very good at that, and then we found SoftLedger, and SoftLedger matched exactly with our needs." - Ronaldo Bezerra, Financial Director at AAG Management Co.
Aside from its multi-currency capabilities, here is a deep dive into some of the other key benefits of SoftLedger.
Automatically Consolidate Data in Real-Time
One of the key elements that set SoftLedger apart is that it is cloud-based accounting software that automatically consolidates data in real-time. If your accountants are still manually consolidating data with a tool like QuickBooks or Freshbooks, you're paying for unnecessary labor. By purchasing accounting software that automatically consolidates financial data, you'll be able to double or triple the productivity of each accountant.
In addition, using a product that automatically consolidates data in real-time makes it possible to always know the current financial status of any given project to ensure you don't overspend.
For example, if you're working on a project and planned to spend $100,000 on it, yet it's already at $85,000 in the first two weeks, you can either pause it or course correct to ensure you don't go over budget.
However, if you're still consolidating data manually, you likely won't have any visibility into project progress until the month closes (which typically doesn't happen until the end of the following month).
Rely on Accurate and Compliant Financial Data
Another reason businesses use SoftLedger is that they have scaled to a level where they now have to worry about compliance.
This is something that a solution like QuickBooks can't offer.
However, SoftLedger makes compliance easy. Specifically, you can create automated control environments such as:
A double-entry accounting system with precise role management
Automated subledgers
Organized chart of accounts
Approval workflows
Therefore, you'll always be audit ready and won't have to worry about inaccuracies.
Painless Integrations
SoftLedger's structure is fundamentally different from most accounting software solutions. Specifically, it uses a REST API which enables you to connect with virtually any third-party tool in as little as one working day.
In contrast, connecting with other accounting software solutions typically either limits you to the third-party tools they already offer integrations for, or requires you to hire engineers with knowledge of that tool's proprietary programming language.
This is annoying for engineers and may not even be possible for some companies.
Quick Setup and Minimal Training
Finally, SoftLedger was built for lean accounting teams that need more functionality than small business accounting software like QuickBooks yet don't have the time or resources to implement a robust enterprise tool.
Therefore, most SoftLedger users can get up and running in a matter of weeks, and accountants require minimal training to get the hang of the software (they typically feel comfortable in less than a month).
In short, it offers all the automation features a growing company needs without the unnecessary complexities that most enterprise accounting software includes.
If you'd like to see SoftLedger for yourself, schedule a demo today.
Xledger
Xledger is cloud-based accounting software that claims to automate about 75% of manual processes. Its three key value propositions are automation, deeper insight, and scalability.
Once you've integrated Xledger with your systems, it automatically consolidates your financial data for you and applies foreign currency rates to ensure you always have accurate data. Xledger also offers a suite of 22 languages to make communication seamless for global companies.
Finally, the data is collected in near real-time so that users can always see exactly where you are in the process.
What Customers Like About Xledger:
Excellent for consolidating multi-entities
Plenty of advanced BI tools to analyze the data
Various ERP features and tools making it easy to scale and grow
Flexi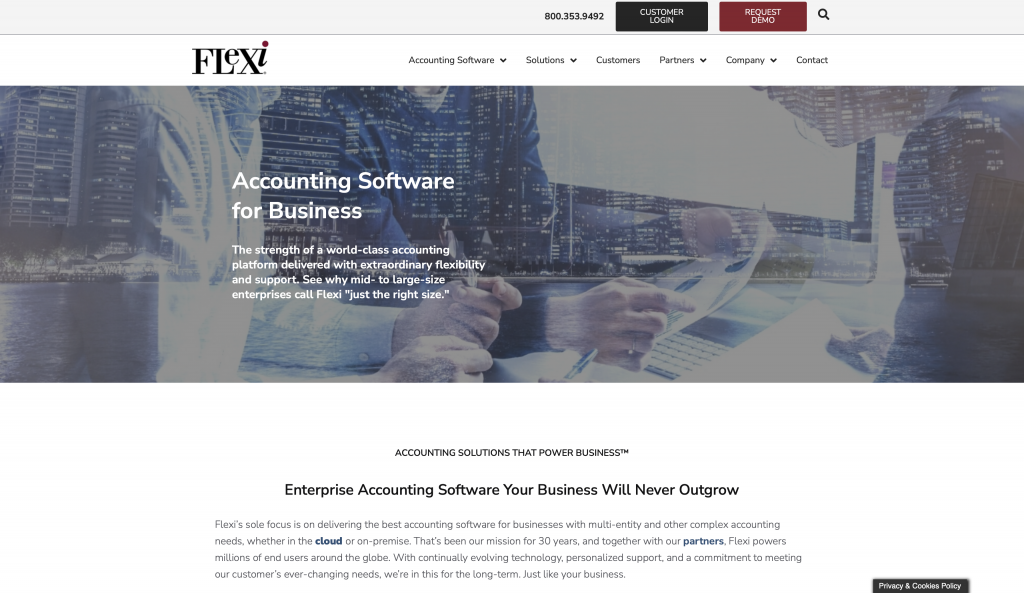 Flexi is designed for mid-sized to large enterprises and offers both cloud and on-premise solutions.
Given that its target audience is enterprise companies, it does offer multi-currency accounting and closes the books each morning.
However, its main selling point is that it is flexible for enterprises with complex and unique accounting processes.
Core Features Overview
Multi-entity consolidations
Automated account reconciliations
Compliance features
Deep visibility into transaction details
What Customers Like
Flexibility and personalization
Automatically sorts and books invoices
Control costs monthly and identifies and allocates expenses by project
Sunrise
Sunrise is a financial insights tool, meaning it's used mainly for managing cash flow and simplifying complex accounting processes.
Due to its simplicity, Sunrise is typically used by freelancers, contractors, and small businesses with relatively simple accounting processes.
Nonetheless, it does offer multi-currency accounting software features for those that deal with foreign currencies.
Core Features Overview
Customized invoices
Financial reports
Automatic expense tracking
Gusto payroll integration
Full double-entry accounting
Automatic bank-syncing
Send quotes and estimates
What Customers Like
Matching invoices and expenses is intuitive
Great UI/UX
Cloud-based and free
Sage 50Cloud Accounting
For small businesses that use multiple currencies and need more functionality than a tool like Sunrise yet don't need enterprise software, Sage 50Cloud Accounting might be an ideal solution. It does cost more than the typical desktop tool, though this is because it offers that much more.
Core Features Overview
Cash flow and invoicing (recurring invoices and "Pay Now" functionality)
Accounts payable and banking (automates purchase orders, invoices, payments, bank feeds, and account reconciliation)
Advanced inventory management
Job costing
Payroll
Reporting
What Customers Like
Multiple team members can log in at the same time
Offers cloud storage
Easily integrates with other apps
Choosing The Right Multi-Currency Accounting Software For Your Needs
Whether you're a large enterprise company or a small business, one of the tools above should fit your needs.
If you're somewhere between a small business and a large enterprise company, SoftLedger might be a good option. Designed for lean accounting teams that need professional multi-currency accounting software, SoftLedger is a cloud-based accounting system that offers automation without the unnecessary complexities of enterprise accounting software.
To see if SoftLedger is the best tool for your needs, schedule a demo today.
The Best Private Equity Accounting Software For 2022
The Best Accounting Consolidation Software of 2022