We've found that most CPA firms fall into one of two categories related to accounting software:
You're using SMB accounting software (like QuickBooks) that is overly simplistic and requires a lot of manual calculations in Excel to close the books.
You're using software that automates more processes but is unnecessarily complex (like Sage Intacct) and comes with many functionalities you'll never use.
Fortunately, the accounting software industry is evolving, and you can now find a solution that:
Automates processes like multi-entity consolidation
Provides real-time data
Offers more extensive flexibility
And even enables crypto accounting
…all without purchasing a robust accounting management platform that costs many thousands of dollars and takes weeks to install and learn.
Therefore, this post will highlight some effective accounting software solutions that CPA firms are using to improve their accounting processes.
Adagio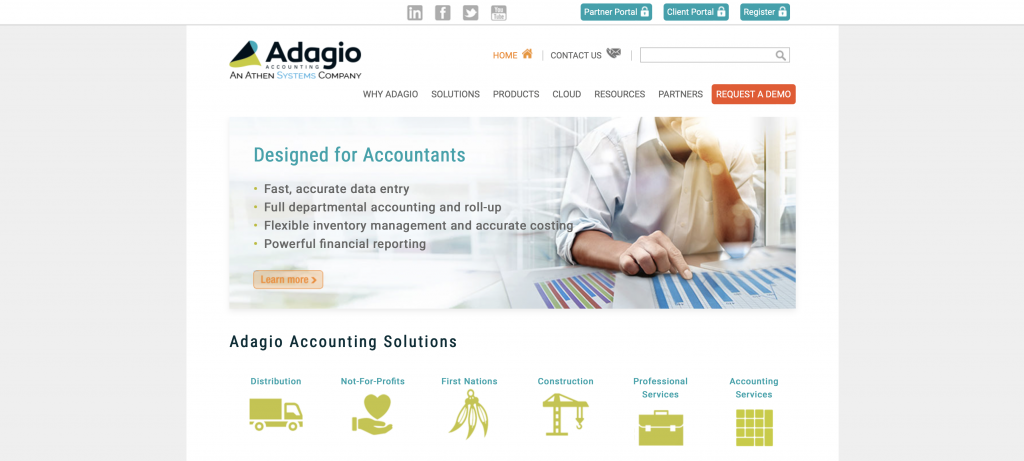 Adagio is an ERP system for small and mid-sized businesses that deal with a high volume of transactions.
It offers a host of different solutions, including:
Adagio Inventory: Tracks all of your inventory, including purchases, receipts, shipments, returns, and more.
Adagio Ledger: Offers customizable formatting with unlimited line items and descriptions.
Adagio JobCost: Tracks all of your jobs and products by integrating with Adagio's receivables, payables, and invoices features.
Adagio MultiCurrency: This feature stores all of your foreign currency exchange rates and formatting rules.
While it can serve any industry, its most common customer is non-profit organizations (17%), followed by wholesale distribution (11%), and professional services, manufacturing, and consulting (all 8%).
Gravity Software
Gravity Software (formerly Microsoft CRM) is designed for businesses that have outgrown their small business accounting software and need something with more power.
It is built on the Microsoft Power Platform (Dynamics 365) and offers powerful customization options. While it may not be a turnkey solution, you can create customizable data tables, integrations, workflows, and more.
Some of its features include:
General Ledger
Accounts Payable
Accounts Receivable
Dashboards
Consolidated Reporting
Inventory Management
Time Tracking
Job Costing
Dynamics 365 Sales, Marketing, Service
The primary users of Gravity software are small businesses (72%) with some mid-market customers (28%). The most common industries using Gravity include hospitals, construction, accounting, and hospitality.
Xero
Xero is a small business accounting software that is known for its simplicity. So if you only have a single accountant or bookkeeper, it might be an excellent solution.
You can get the entire platform set up in a matter of hours, and it's intuitive enough that your accountants shouldn't need any training. If they do need help, Xero offers plenty of resource guides.
Xero's key features include:
Cash Flow Management (pay bills, claim expenses, etc.)
Track Projects
Reporting
Inventory Management
Quotes
Sales Tax Management
Analytics Dashboard
If you have more advanced accounting needs (like multi-entity accounting), you'll probably have to purchase several add-ons to make it work, and even then, you'll probably have to do some processes outside of the software.
Freshbooks
Freshbooks is similar to Xero in that it's often used by startups and other small business owners that need a simple financial management solution. In fact, it says that it is designed for freelancers, self-employed professionals, businesses with contractors, and businesses with employees.
Freshbooks offers all of the core accounting features (general ledger, balance sheet, accounts payable, cost of goods sold, chart of accounts, etc.), in addition to:
Mileage Tracking
Time Tracking
Proposals
Estimates
It also offers a mobile app that makes it easy to view and enter financial data on the go.
Above all, Freshbooks is known for its ease of use and simple UI, which makes it possible for even business owners to handle all accounting processes. However, with this simplicity also comes a lack of flexibility that more advanced businesses need.
Striven
If you're a CFO looking for a solution that is more robust than SMB accounting software and willing to invest the time and resources required to get an ERP up and running, Striven is an option.
Here are some of the core features of Striven:
Accounts Payable
Accounts Receivable
General Ledger
Payroll Management
Tax Management
Inventory Management
Billing/Invoicing
When comparing itself to QuickBooks (which is what you would closely compare Striven to), Striven claims to be more scalable and flexible with more responsive customer support.
It offers much more than just accounting solutions, including human resource management, customer relationship management (CRM), project management, and much more.
However, this also means that it's less intuitive than typical accounting software and can be intimidating for those that aren't accounting professionals.
It also integrates with key services like Google, Microsoft, Authorize.Net, Yodlee, and ShipStation.
Bean Cruncher
Bean Cruncher is designed for newer accountants that need an ERP system that can scale with the business.
It has four main modules; accounting, sales, operations, and purchasing.
The accounting module's features include:
General Ledger
Accounts Payable
Accounts Receivable
Banking
Canadian Payroll
Financial Reporting
Tax Reports
The customers using Bean Cruncher mention they like it because it lets you make manual edits to the accounts. While this means that it is easier to use, it also means it isn't ideal for larger companies that need to follow standard accounting principles. For example, you can edit an invoice before payment, fix errors without adjusting entries, and delete error transactions.
So while it's a great first accounting software, it might not be ideal for mid-sized and larger companies with accounting teams.
SoftLedger
SoftLedger is our own cloud accounting software, and we created it because we wanted a solution that could offer the advanced automation and efficiency of a robust ERP system with the simplicity and intuitive UI of a small business accounting software.
To achieve this, SoftLedger is built fundamentally differently from most other accounting software.
First, SoftLedger automatically adjusts all accounts the instant an entry is made so that you always have accurate, real-time data at any time throughout the month.
If any additional calculations need to be completed to accurately adjust impacted accounts (e.g., consolidating foreign currencies before consolidating multiple entities), SoftLedger executes those calculations automatically.
This means that you can:
Eliminate errors from manual calculations
Provide executives with up-to-date data in seconds
View an up-to-date consolidated version of your accounts at any moment (and eliminate the multi-entity consolidation process entirely)
Know the instant expenses start to increase to avoid overspending
In this example, you can see all of the children of United States, United States standalone, any eliminations, and the consolidated balance. When booking a journal entry in San Francisco, you can immediately see that entry reflected in the balance at that level and its parent entities as well.
Additional Features
SoftLedger also offers a few other key features that make it more efficient than most other accounting systems:
Open API: It's super easy to integrate with SoftLedger because we have a REST API. This way, you can integrate with any software – in a fraction of the time.
Crypto Accounting: We integrate crypto with the rest of your accounting processes rather than forcing you to purchase a crypto accounting add-on. In fact, we'll automate the cost basis process for you and even create the corresponding journal entry automatically!
Multi-Dimensional Chart of Accounts: We already mentioned that SoftLedger enables you to eliminate the multi-entity consolidation process entirely. This is because it automatically offers a multi-dimensional chart of accounts.
Ease-of-Use: Accountants don't require extensive training to start using SoftLedger as it is intuitive and user-friendly. Most only require a few days to get the hang of it.
Key Benefits of SoftLedger
Always Access Accurate Data in Seconds
Given that SoftLedger automatically offers real-time data and a customizable multi-dimensional chart of accounts, you can see exactly how you're doing at any given moment (rather than waiting until the books are closed).
For example, if you were billed for rent yesterday, that expense will be reflected across all impacted accounts today.
This makes financial reporting a breeze and ensures you can always deliver up-to-date data for executives in seconds. It also eliminates the possibility of overspending simply because you didn't know that expenses were getting out of control.
You'll also never have to worry about manual data entry errors again, and you can leverage human resources more efficiently.
Build Integrations in Days – Not Weeks
With small business accounting software, you aren't able to build integrations (you can only use the integrations it offers). While enterprise accounting management platforms might enable you to build integrations, it's typically a complicated process that requires a developer with proprietary programming knowledge of that system.
SoftLedger solves this by offering a REST API that makes it possible to painlessly build integrations in a fraction of the time.
Close the Books in a Couple of Days
Closing the books with SMB accounting software requires a lot of manual work outside of the system before you can close the books (i.e., consolidating currencies, multi-entities, cost basis for crypto, etc.). Enterprise accounting software might automate some of these processes, but you'll still probably have some manual work to do at the end of the month.
For example, it might offer a multi-entity consolidation feature (often an add-on), but you'll probably still have to prepare the data (like applying foreign currency consolidation rates) before consolidating it. This slows down the month's close and exposes your data to manual error.
Instead, SoftLedger offers truly real-time data by automatically performing any calculations necessary to provide accurate, up-to-date data. Therefore, you'll be able to close the month in a couple of days rather than weeks.
Automate All Crypto Accounting
At the time of this writing, SoftLedger is the only native crypto accounting software. So rather than purchasing a crypto-accounting add-on (or doing all of the calculations manually), SoftLedger integrates your crypto data with the rest of your accounting data.
In addition, it automatically calculates the cost basis and will even create the corresponding journal entry for you!
This means you'll never have to execute crypto calculations outside of the system again.
If you want to streamline your accounting processes and improve your entire team's efficiency, sign up for a demo of SoftLedger today!
Selecting the Best Accounting Software for CPA Firms
There are plenty of different accounting software solutions on the market, though we're proud of SoftLedger as it's the solution we wish we had.
Specifically, we find it offers a great balance of advanced flexibility and automation found in enterprise accounting solutions with the ease of use and intuitive UI of small business accounting software.
Best Accounting Software For Real Estate Investors
Xero Alternatives: Our Top 6 for 2022