We are pleased to announce that SoftLedger has once again been named a G2 Crowd "High Performer". In addition, this spring, we have also been recognized as a company that is "Easiest To Do Business With".
Our accomplishment in the Spring 2022 quarter shows not only the hard work our team has been putting in but also reflects how satisfied our customers are with our product.
What Is G2, and Who Uses It?
G2 is a peer-to-peer review site that allows customers to compare similar software and leave ratings for products they've used. G2 uses proprietary algorithms based on customer feedback to rank the top performers across their market.
For sellers, G2 allows businesses to promote their software, collect reviews, and get reports that buyers use to research their B2B software purchases. G2 also creates brand awareness and trust through the reviews that actual customers write. The site has published over 1 million verified reviews and takes multiple steps to verify that the reviewer is an actual user of the product. Above all, they use an algorithm to identify and prevent employees from reviewing their own company or their company's competitors.
What Do G2 Badges Mean?
G2 badges are a symbol of excellence and customer satisfaction. They are awarded based on feedback on a product from customers, which is what makes them so impressive.
G2 badges are important for companies like SoftLedger to demonstrate the reliability of their products and services to their customers. Not only do these badges illustrate the trust others have for a company's product, but they also provide reassurance for buyers. This way, they can be confident they are making the right choice. Finally, G2 badges show that a company is continually working to improve itself and the product to ensure that customers are happy with their purchase or subscription.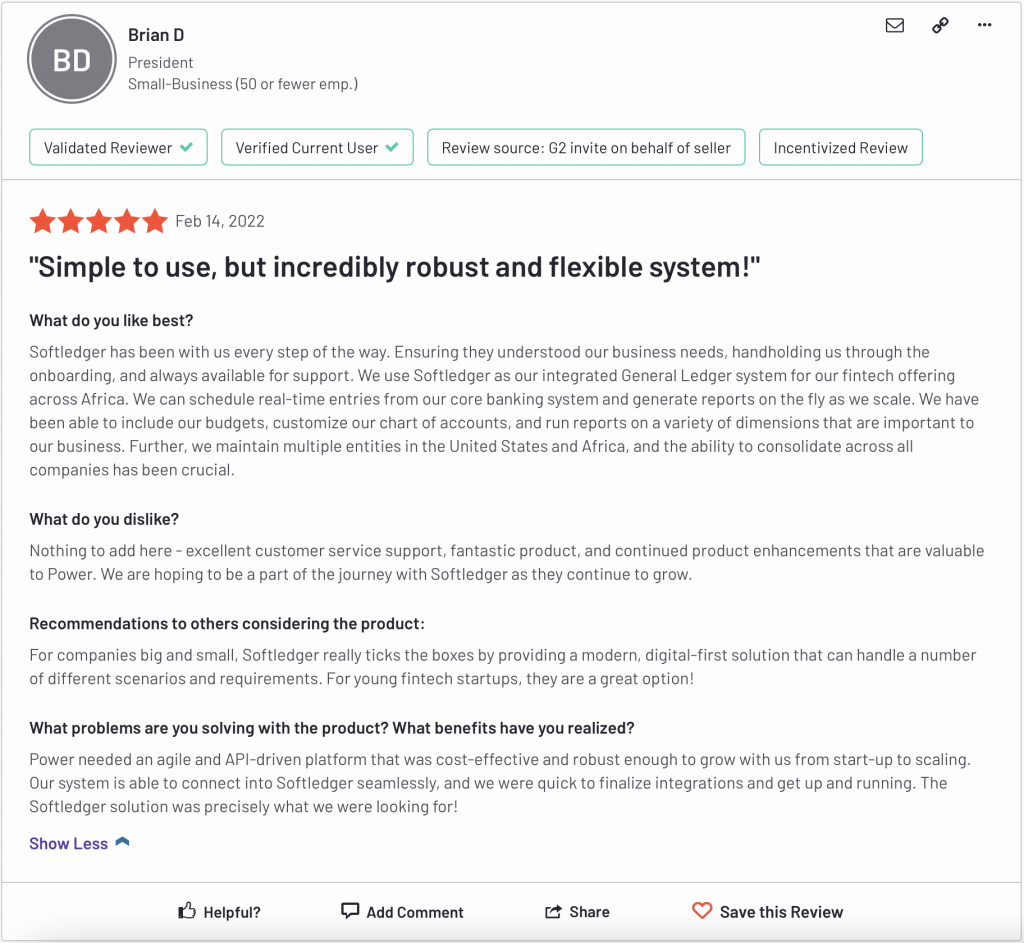 G2 "High Performer" and "Easiest To Do Business With" Badge
The G2 "High Performer" and "Easiest To Do Business With" Badges are based on reviews from actual customers. The reviews SoftLedger receives from verified customers is what allows us to hold such high customer satisfaction scores. This is now SoftLedger's 3rd consecutive G2 "High Performer" award since the fall quarter of 2021, and our first ever "Easiest To Do Business With'' award!
A "High Performer" rank means SoftLedger is one of the highest rated Accounting Software solutions. These ratings are based on reviews written by our users. SoftLedger consistently achieves high ratings from customers, and we currently hold a star rating of 4.6/5. These reviews include quantitative ratings; as well as qualitative reviews about customers likes, dislikes, recommendations, and business use cases.
An "Easiest To Do Business With" badge means SoftLedger has been recognized by the amount of work we put into listening to our customers and the feedback they give us. In other words, SoftLedger goes above and beyond to make sure our customers are happy and satisfied with the platform. Sometimes this means customizing the product to suit their needs a little better.
SoftLedger User Ratings
Ease of Use: 9.4
Quality of Support: 9.7
Ease of Setup: 9.6
Reviews
"SoftLedger's hierarchical "Location" system makes multi-entity accounting a breeze! You can enter all your different entities as locations, keep their individual books separate, and combine them as necessary for rolled-up reporting needs. Plus, being able to do this all on one accounting profile cuts down on software costs and the complication of multiple accounts needed to keep different entities' books separate" - Financial Controller

"The most important things for me was quick implementation and service on the cloud. We were on the desktop version of QuickBooks, which ran way too slow and required installation on every user's computer. It was vital for all historical data to be in the system, because our organization had over a decade's worth of transactions. Implementation took about three weeks. All of the historical data was in the system, and our team was up and running with daily tasks." - Accounting Administrator

"SL calculates the cost base of coins and generates the journals automatically with a highly customizable setting which no other crypto accounting software can do in the market." - Financial Controller
If you'd like to read the other reviews that our customers left us, you can visit our reviews page.
Thank You!
In conclusion, the SoftLedger team wants to thank all of our customers for leaving us such positive feedback. We love reading reviews from our customers, and in our experience, customer reviews are one of the greatest assets. Both positive and negative reviews give us an opportunity to understand and engage with our users. From there, we can improve our platform and ensure we stay on track towards our company's goals.
If you'd like to learn more about SoftLedger, book a demo with us today!
SoftLedger Partners with Finexio