We've talked to several CFOs at banks, and many report that their existing accounting software isn't designed to accommodate the unique complexities of accounting for banks.
Here are just a few of the key problems that are often mentioned:
Closing the books takes days, if not weeks. This is because of the complexities involved with consolidating multiple entities at the end of the month.
The team doesn't have access to real-time data throughout the month, therefore making it difficult for executives to make better decisions.
Manually executing the complex accounting processes that most banks face is time-consuming. Additionally, it's dangerous as the likelihood of data entry error is quite high.
To help solve these challenges, we analyzed various accounting solutions for banks and compiled a list of our top picks. We'll also introduce you to our own product, SoftLedger, which several banks are currently using as their accounting software solution.
Flexi

Flexi is another popular accounting solution for financial institutions. The key features they highlight are:
Continuous close
An average daily balance
Cloud and on-premise deployment options
Multi-entity options
Along with general ledger software, they offer solutions for accounts payable, accounts receivable, workflow automation, workflow automation, and financial reporting.
Reviewers praise Flexi for its user-friendly interface and responsive customer support.
AvidXchange

AvidXchange offers accounts payable automation for banks and credit unions with its two solutions; AvidAscend and AvidPay.
AvidAscend is their automated accounting solution. It enables users to efficiently manage invoices, prepaid and accruals, fixed assets, and expense reports. Here are a few key aspects of AvidXchange:
Create custom approval processes and workflows
Reporting that is research and audit-friendly
Optical Character Recognition (OCR) invoice processing and automated coding
AvidPay is payment automation software designed to make online payments and billing easy.
While the main platform only automates the accounts payable functions of the system, it can be a powerful integration for your core banking system. A few of the systems they integrate with include DCI, Symitar, CSI, Finastra, Jack Henry, and FIS.
The benefits AvidXchange highlights include faster payment processes, reduced risk thanks to its advanced e-payment options, and remote usage capabilities.
FPSGold
FPSGold is a popular accounting software solution for banks. It offers core banking, online and mobile banking, CMS, and wire transfer software – all designed specifically for banks.
Drilling down to their core accounting solution, they enable:
Financial reporting
Fast general ledger entries
Flexible year-end closings
Pay vendors easily with ACH
Fixed assets system that enables you to repost depreciation
Streamline check reconciliation
While their core accounting system might not be as robust as some of the other solutions on this list, it's an excellent all-around system that offers plenty of different features for various needs.
Reviewers say it is user-friendly, and customer support is responsive and helpful.
Netsuite ERP
Netsuite is a popular accounting solution that offers robust features for larger enterprise companies. It offers everything from inventory and asset management to cash flow and audit trails.
While it offers both cloud and on-premise software, Netsuite is an older solution. Therefore, isn't as flexible as some of the more modern online accounting solutions.
For example, it's tricky to build integrations with its API as it requires proprietary knowledge of its programming language.
However, it can be a good solution for businesses with 2,000 plus employees and extensive complexities.
TallyPrime

TallyPrime is gaining popularity in the accounting industry and enables users to perform all of the basic accounting needs. For example, managing multiple entities, inventory management, financial and banking transactions, and fast reporting.
Here are a few specific things that reviewers like about TallyPrime:
Easily maintain the Books of Account for each business entity
Back-ups to keep data safe
Remote access to financial data with Tally.net
Audit and compliance features
Simple reports like balance sheet, profit and loss account, etc.
However, a key complaint among reviewers is that the UI is not very user-friendly, especially for non-accountants.
Freshbooks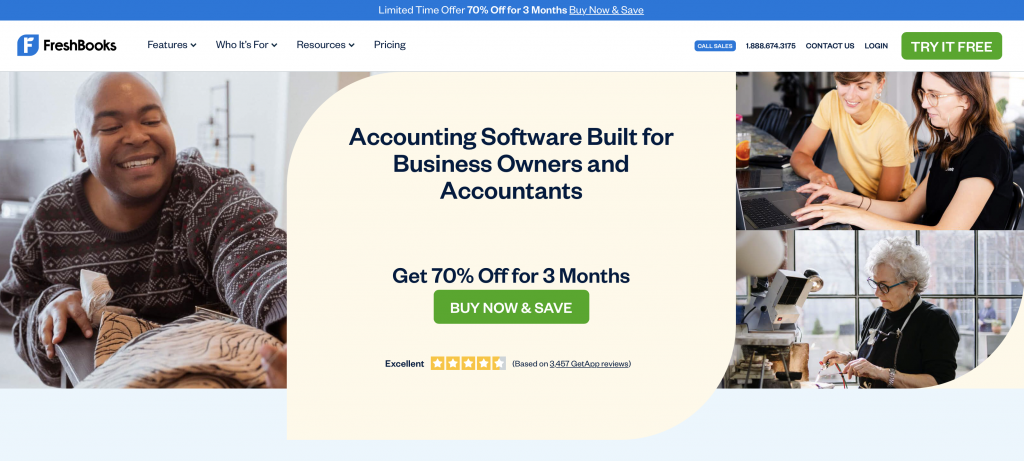 Freshbooks is designed for freelancers, small business owners, startups, and bookkeeping professionals that need a simple solution to manage basic accounting processes. So while it isn't ideal for large corporations, it can be a good option for those that just want a simple, user-friendly solution.
With their basic accounting plan, you'll have access to:
General ledger software
Accounts payable
Balance sheet
Chart of accounts
Journal entries
They also make it easy for anyone to get started with step-by-step guides to most general accounting processes and templates for processes like invoicing.
Expense tracking is also super easy as you can set up bank feeds and automatically import expenses into your Freshbooks account.
Freshbooks also offers a mobile app (for both iOS and Android) so that you always have easy access to your financial data.
SoftLedger
SoftLedger is designed specifically for multi-entity companies, and there are a few key things that set it apart from other solutions:
The digital banking platform, Power, is an excellent example of a company that adopted SoftLedger early on as its core accounting solution, and they've reported that it efficiently handles many complexities like:
Offering real-time reporting on various financial services to thousands of customers across different countries using different currencies.
Reporting and accounting across multiple different dimensions, cost centers, and partners.
Exceptional speed to satisfy their growing customer base.
You can read more about how Power uses SoftLedger or stick with us as we explain why SoftLedger's accounting software is uniquely designed to help banks improve their accounting processes.
Automatic Multi-Entity Consolidation
There are usually two different camps when it comes to multi-entity consolidation:
Small business accounting solutions (like QuickBooks) require users to purchase different accounts for each entity and manually consolidate the books at the end of the month in spreadsheets.
Legacy accounting software requires users to purchase a multi-entity consolidation add-on that speeds up the consolidation process, though you might still have to manually prepare the data to be consolidated (e.g., perform intercompany eliminations, etc.).
Either way, there's some friction at the end of the month, therefore you never really have an accurate picture of your current financial status.
We wanted to eliminate these cumbersome processes, so SoftLedger automatically performs all calculations involved with the multi-entity consolidation process (such as multi-currency consolidation and intercompany eliminations) and then consolidates the entities for you automatically.
This entire process happens as soon as a new transaction is entered for a single entity, so you always have an up-to-date general ledger and can drill down to any specific entity.
By automating these processes, you'll be able to eliminate most of the manual processes associated with multi-entity consolidation and close the books faster.
Access Real-Time Data
A key differentiator between SoftLedger and other accounting software is that SoftLedger users always know exactly how the company is performing at any given moment throughout the month.
This is possible because SoftLedger automatically consolidates multiple entities, multiple currencies, and performs any other calculations necessary to provide an up-to-date general ledger.
So if an executive wants to make a new investment, they can make a better decision based on real data. Similarly, if the bank overspends at the beginning of the month, you can course correct it before the end of the month and avoid going over the budget.
Enjoy Ultimate Versatility With a REST API
When Power was looking for a solution, the team knew their banking platform would need a highly flexible solution that could quickly accommodate a high volume of complex transactions.
As SoftLedger uses a REST API, 95% of the platform is entirely programmable via API. This was a key factor that made SoftLedger a perfect solution to accommodate the unique needs of Power.
With small business accounting software, users are limited to integrating with only the apps available in their marketplaces. While larger legacy accounting systems enable users to build customer integrations, the process is often laborious and resource intensive, requiring developers to deal with proprietary protocols.
With SoftLedger, developers can easily access the documentation necessary to execute the integration, and the overall process is quick and easy.
Despite its powerful capabilities, SoftLedger is also user-friendly and designed so that anyone can quickly learn how to use the platform. Our onboarding process is also quite fast, averaging between a few days to a week or two. For example, despite Power's extensive complexities, it only took 2-3 days to integrate, and the team was comfortable using it in just a couple of weeks.
Our customer support team will also be with you every step of the way to ensure your team feels comfortable in their new workflow, and we're also open to feature requests and other ideas.
Choosing the Best Accounting Software for Banks
There are plenty of different accounting software solutions for different needs, but finding one that suits your needs can be tricky.
We built SoftLedger because we couldn't find an accounting solution that:
Automatically consolidates multi-entities
Provides access to real-time data at any point throughout the month
Is 95% programmable via API
Today, SoftLedger is that solution. If you want an accounting solution that can easily handle the complexities of banking accounting processes, schedule a demo of SoftLedger today and see if it can solve those problems for you.
The Best Accounting Software for Trusts (2022)
Best General Ledger Software (With Analysis) for 2022
Best Investment Accounting Software for Automation + Usability