In our experience, few accounting software solutions are designed specifically for investment professionals with multiple entities and complex accounting processes.
Specifically, there are two mainstream accounting software options for investment companies:
Small business accounting software
Traditional ERP
However, there are tradeoffs with each of these.
The problem with small business accounting software is that you're typically required to create an individual account for each entity which can quickly become expensive. In addition, it's not very flexible, and you'll have to manually consolidate your entities. This means the team never has access to real-time data.
The other option is to purchase and implement an ERP system. While you can probably build more integrations with this and perform more complex accounting processes, it's typically a pain to set up (you might need a developer with proprietary programming knowledge), and it's also very expensive.
Even once it's set up, most ERPs are complicated and require a lot of training for employees to navigate. Finally, because they've been adapted to the cloud (rather than built natively as cloud solutions), you'll notice that they still offer only limited flexibility.
Fortunately, there are now modern solutions that solve these problems. So if you want a more flexible accounting software that's designed for investment companies, consider some of the options below.
Altair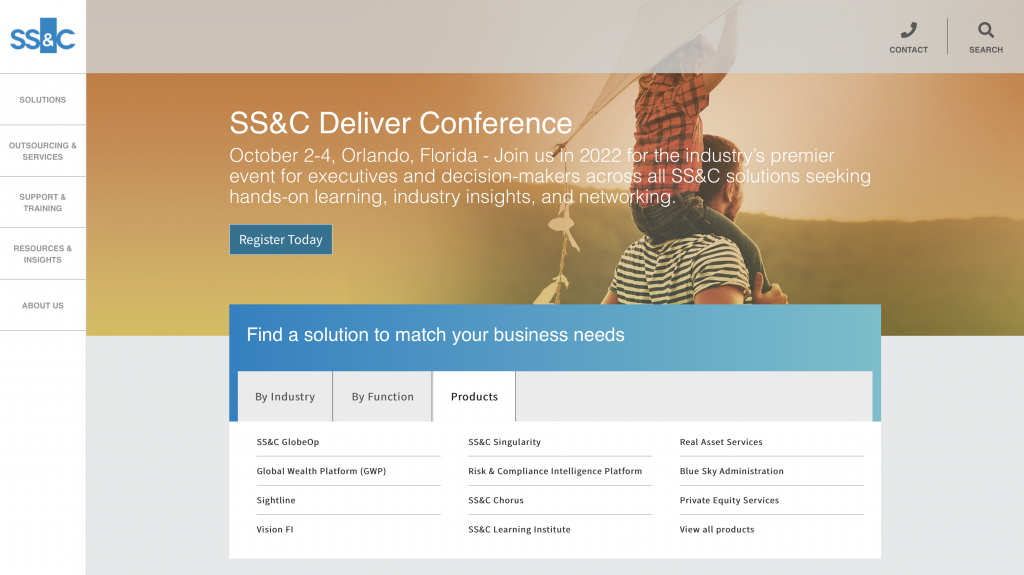 Altair is an intelligent fund administration platform that offers an accounting solution. Its accounting solution is used by investment managers, insurance companies, pension funds, and other financial institutions for portfolio management, investment accounting, and financial reporting.
It offers the basic capabilities you might expect, including multi-currency investment strategies, tracking securities, automated exception handling, and reconciliation features.
It also claims to be compliant with GAAP, IFRS, and other regulatory bodies.
Reviewers claim that it offers helpful support and is a relatively easy-to-use solution.
Backstop Solutions Suite
Backstop calls itself a CRM solution for hedge funds, investment managers, portfolio managers, private equity, and other wealth management professionals.
However, one of its key solutions is its multi-asset class accounting suite. Its key differentiator is that it integrates the portfolio and partnership accounting processes. So instead of trying to aggregate disparate data in Excel or other small business accounting software, Backstop's accounting solution streamlines the process for you.
Here are a few of the key functionalities it highlights:
Shadow fund administrators from one dashboard
Easily manage complex entity structures commonly associated with investment accounting
Overlay investor and portfolio liquidity so that cash planning is accurate
Supports multi-currency accounting
Artiffex
Artiffex offers an automated account reconciliation software specifically designed for investment portfolio managers. Therefore, it integrates easily with other third-party data sources so that you can avoid manual data entry and produce client reports faster.
Artiffex claims that its solution is designed to support teams of one to 75 entities and its clientele is based mainly in the United States and Canada.
It also offers subscription-based pricing so that it's easy to scale as the company grows.
In addition to its SaaS product, Artiffex also offers an outsourcing solution, so if you don't want to execute the process yourself, they'll do it for you.
Xledger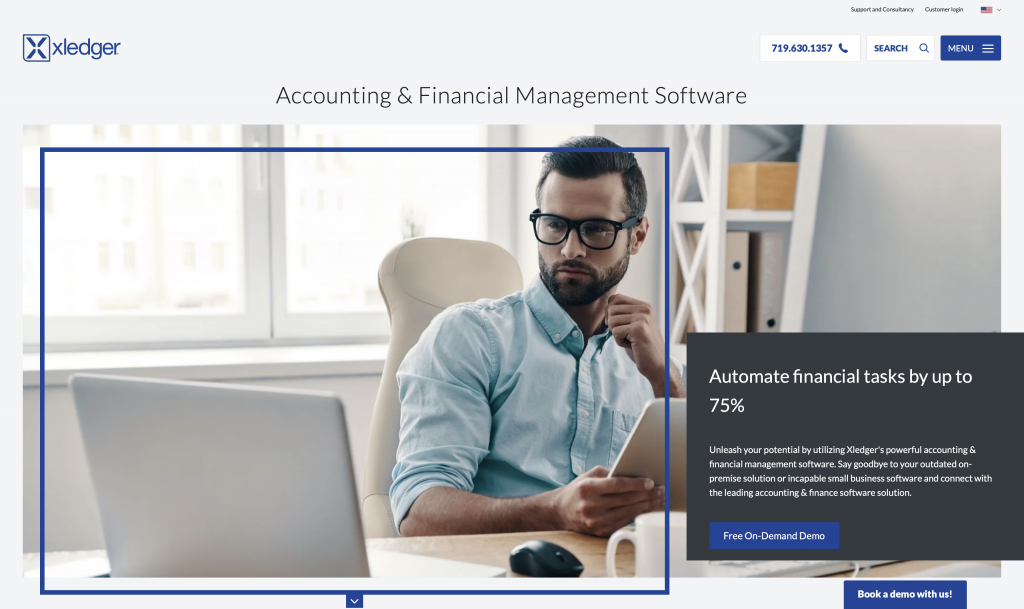 Xledger is a cloud-based ERP solution that offers everything you need for financial management including:
Core accounting
Budgeting and forecasting
Reporting and analytics
Accounts receivable/payable
Asset management
Project accounting
Inside the main general ledger, you'll find it does everything you need for day-to-day accounting. It offers pre-defined balance sheets, profit and loss statements, and several customizable dimensions for sub-ledger, asset, and bank transactions.
It caters mainly to midsize and larger businesses, specifically public institutions and non-profits. However, it can also be used by investment firms as it offers the basics that multi-entity firms need, including multi-currency accounting and financial consolidation. Xledger also supports 22 different languages so that global organizations can use it.
If you need to build integrations, Xledger enables you to do so with the open-source query language GraphQL.
Altruist
Altruist is an all-in-one investment solution and its goal is to make it possible for financial advisors to replace the custodian.
When you log into the app, here are a few things you'll see:
Funding
Trading and rebalancing
Model marketplace
Performance reporting
…and more
So while it isn't really general ledger software, it is an excellent tool for financial advisors to open, fund accounts, and manage the book from one place.
SoftLedger
We built SoftLedger because we wanted a flexible, easy-to-use accounting system that automates your multi-entity accounting workflow and provides real-time data.
In fact, prior to building SoftLedger, founder Ben Taylor struggled with various clunky ERP systems and wanted a better solution for multi-entity companies.
Therefore, he built SoftLedger to solve his own pain point.
Today, SoftLedger provides real-time data and automates the entire multi-entity consolidation process.
In the video below, you can see how SoftLedger automatically consolidates multiple entities:
Below, we'll dive into a few of the key differentiators that make SoftLedger a unique platform designed specifically for multi-entity companies.
Real-Time Data and Automatic Multi-Entity Consolidation
Most accounting systems enable you to purchase a multi-entity consolidation add-on that consolidates your data. However, there are a few problems with consolidation add-ons.
First, you often still have to manually prepare the data by consolidating foreign currencies, performing intercompany eliminations, etc.
Then, you have to export the data to the add-on tool, consolidate it, and move it back into your general ledger software.
Given that you don't usually do this process until the end of the month, your executives don't have accurate financial data throughout the month, which can lead to poor investment decisions.
To solve this problem, we built SoftLedger to provide real-time data and automate the entire consolidation process.
This means that the instant an entry is made to a single entity, SoftLedger automatically performs any consolidation prerequisites (multi-currency consolidations, intercompany eliminations, etc.), consolidates the data, and then creates the journal entry.
So you'll be able to log into the parent company's general ledger and see the impact reflected there almost immediately.
This means you can close the books faster, and executives can always access accurate data to make better financial decisions. In addition, you never have to purchase an add-on solution or purchase multiple accounts for each entity.
Flexibility With an Open API
Another issue we found with other accounting software is that either:
Small business accounting software limits you to use only the apps they offer
ERPs make it difficult to build integrations as the developers need to have proprietary programming knowledge of the system.
So both option offer limited flexibility and often requires substantial engineering resources.
That's why we decided to build SoftLedger with a REST API. In fact, the entire platform is 95% programmable via API, making it incredibly flexible and easy for developers to work with.
Therefore, you can easily customize it to fit your needs, and we've even had several customers use it as a white-label accounting solution.
Native Cryptocurrency Capabilities
When building SoftLedger, one of the modern trends we began noticing is that many companies are now incorporating cryptocurrency into their business. However, there wasn't a native crypto accounting software on the market.
Sure, you can purchase a crypto add-on and incorporate it into your workflow, but exporting data from your GL system and then reimporting it is a hassle. In addition, crypto accounting comes with other unique challenges. For example, there are typically eight or more decimal places involved with crypto transactions, and many accounting solutions don't natively support that, so you might have to record it as a foreign currency.
With SoftLedger, you don't have to worry about any of those issues because it is built to accommodate the unique complexities of crypto accounting and seamlessly integrate it with the rest of your financial data.
For example, SoftLedger automatically records the cost basis of each transaction. Then, it can automate the gain/loss transaction calculation and even create the corresponding journal entry for you!
An Excellent User Experience
Finally, we wanted to make SoftLedger inviting and user-friendly so that onboarding only takes a matter of weeks and anyone can feel comfortable using it.
That's why we made the user interface super easy to use, and our clients report that their team members can navigate it fluently within a week or two.
In addition, if you ever have an issue, you'll always have direct access to a customer support contact and we're open to product feedback.
Selecting The Best Investment Accounting Software
While there are plenty of different investment accounting software solutions available, we're particularly proud of SoftLedger because it's the first accounting software designed specifically to accommodate the complex needs of multi-entity companies.
In short, the main three differentiators that make SoftLedger unique are:
Access to real-time data
Automatic multi-entity consolidation
A REST API (the platform is 95% programmable via API)
Cryptocurrency capabilities
In addition, our customer support team is highly responsive and will work with you to help you customize the solution to fit your needs.
To see for yourself if SoftLedger is the right solution for your needs, schedule a demo today.
The Best Accounting Software for Trusts
Best Accounting Software For Real Estate Investors