We've chatted with several accounting teams at established firms and found that most are currently using small business accounting software for their trusts.
Small business accounting software can be an efficient solution for smaller, single-entity firms – and we include several on this list.
However, larger firms with multiple entities typically find small business accounting software cumbersome as they have to create a separate account for each individual entity.
This is less than ideal as:
Consolidating all of the entities at the end of the month is time-consuming as most of the process is performed manually in Excel.
Firms that handle multiple currencies often have to manually consolidate the currencies or purchase another add-on to do the task for them.
It's difficult to accurately assess how the parent company is performing during the month.
Paying for an individual account for each entity can quickly become expensive.
Small business accounting software is also built for business owners that need an easy accounting solution, so it's not flexible or customizable, which makes it difficult for more advanced users to leverage.
To solve these issues, we'll introduce you to our own product, SoftLedger, as well as several other accounting software solutions for trusts you might want to consider.
PracticePanther – Full Law Practice Management for Smaller Firms
PracticePanther is a full law practice management solution that offers basic accounting features for billing and invoicing.
Specifically, this feature offers expense and time tracking, customizable invoices, and an online payment system that is IOLTA compliant.
While it isn't specifically a general ledger software, it can be an efficient solution for small law firms that need basic accounting features.
The full suite of tools includes:
Case Management
Document Management
Calendaring
CRM
ePayments
eSignature
2-Way Business Texting
Pricing
The solo plan (the lowest tier) is $39 per month, but the business plan starts at $79 per month.
Clio – Full Law Practice Management for Larger Firms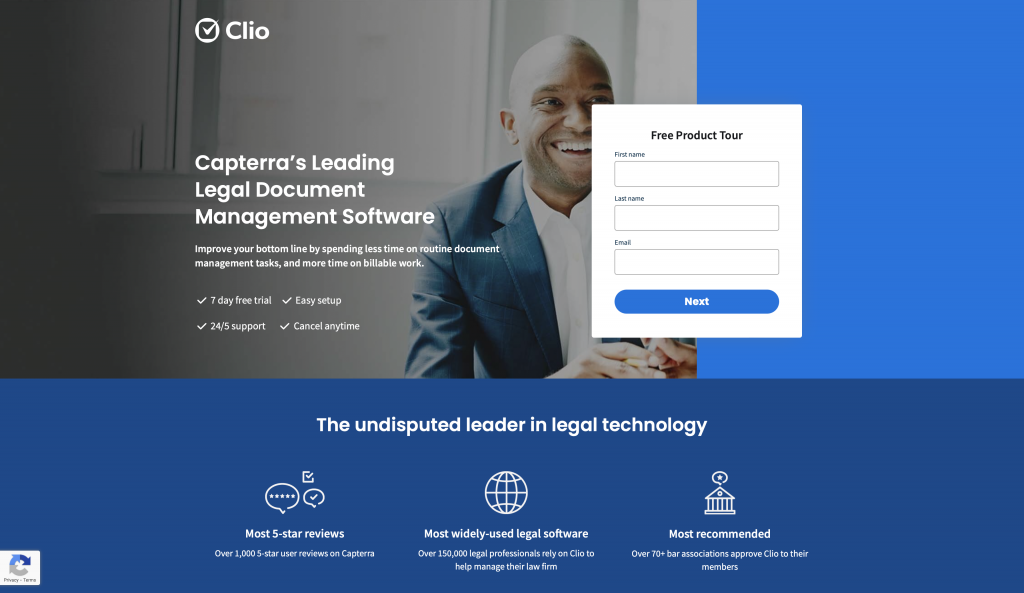 Clio is a legal practice management software that serves law firms of all sizes. It offers some trust accounting management solutions, like:
Creating reports necessary for compliance
Creating different ledgers for trust and operating accounts
Generating compliant invoices
However, Clio isn't a standalone accounting software as it offers integrations with Xero or QuickBooks Online to execute more advanced accounting processes.
Nevertheless, it's a great solution if you're looking for a single software that offers:
Client Management
Case Management
Document Management
Calendaring
Time and Expense Tracking
Task Management
Online Payments
Pricing
Clio's pricing starts at $39 per month (billed annually), with pricing tiers scaling to $69, $99, and $129 per month.
Thomson Reuters – Designed to Accommodate Tax Needs
Thomson Reuters offers tax and accounting software for many businesses, including fiduciaries. Its fiduciary accounting solution handles transactions like:
Dividend and capital gain reinvestment
Taxable and nontaxable exchanges
Exercise of options
Spin-offs
It also integrates with other tax solutions offered by Thomson Reuters like their 706 Gift Tax, 706 Federal Estate Tax, and 1014 income tax solution.
This solution is more tax-focused, so if you're looking to streamline some of those processes, it might be a good fit.
Pricing
Thomson Reuters does not offer any pricing information.
TrustBooks – Simple Accounting Software for Solopreneurs
TrustBooks is simple, easy-to-use accounting software for smaller legal firms.
While it doesn't offer advanced features that larger law firms with complex accounting processes require, it is perfect for smaller law offices where a bookkeeper or even the founder is doing the firm's accounting.
The three main benefits TrustBooks highlights are:
Online banking and legal software integrations to avoid duplicate data entry
Compliance features like automatic three-way reconciliations
Easily transfer funds from a trust account to an operating account
TrustBooks also has simple pre-set workflows designed to help non-accountants streamline their accounting processes. If you do have more advanced needs, it integrates with other tools like LawPay and Clio for more advanced needs.
Pricing
Pricing starts at $49 per month with its more advanced tiers priced at $69 and $149 per month.
Xero – SMB Accounting Software for Larger Single Entities
Xero is a small business accounting software that serves virtually every industry, so while it doesn't have the same focus on the legal industry, it is a widely used accounting software solution.
It's known for a simple and easy-to-use interface that makes invoicing, paying bills, bank reconciliation, financial reporting, and other processes easier.
The drawback with Xero is that it isn't designed for multi-entity businesses, so you'll have to purchase an individual account for each entity. However, it might be a good option if you just have a small law practice and want a simple accounting software solution for trusts.
Xero also has a mobile app so that you can do your accounting on the go.
Pricing
Xero's pricing starts at $12 per month and scales up to $34 per month and $65 per month.
Zoho Books – SMB Accounting Software for Smaller Single Entities
Zoho Books is another small business accounting software that legal firms can use for accounting. It offers basic business automation workflows and makes it easy to invoice, import bank feeds, receive payments, and more.
It also offers audit trails, auto-generated reports, client portals, and other accounting solutions your practice might need.
If you have a larger practice, it might not be an ideal solution as it isn't designed for scale. First, its highest tier only enables 15 users, so it's not really an option for larger teams. In addition, it offers plenty of integrations with other Zoho products, but third-party integrations are limited.
However, it is a great option for smaller businesses that need a simple tool to streamline accounting processes.
Pricing
Zoho Books offers a free version for businesses doing less than $50,000 per month in annual revenue. The first paid plan starts at $10 per month and scales up to $200 per month.
SoftLedger – Designed for Multiple Entities
SoftLedger is a highly flexible accounting solution designed specifically for multi-entity companies. Here are a few key differentiators that make SoftLedger an ideal solution for multi-entities:
Consolidate and Manage Multiple Entities in Real-Time
Access to a Fully Programmable API
Native Cryptocurrency Capabilities
Easy-to-Use, Yet Powerful
We'll discuss each of these in more detail below.
Consolidate and Manage Multiple Entities in Real-Time
SoftLedger's key differentiator is that you can always access an up-to-date, consolidated view of all of your entities. Here's how it works:
A transaction is entered for a particular subsidiary.
SoftLedger automatically performs any required intercompany eliminations.
SoftLedger then automatically adjusts the balance sheet to reflect the impact of the new transaction.
As you can see, SoftLedger automatically consolidates all of your entities in real-time. It also automates additional calculations necessary to complete the consolidation, such as multi-currency consolidation.
Here's a one-minute walkthrough of how SoftLedger's multi-entity consolidation works:
Access to real-time, consolidated data has a few unique benefits, including:
Minimize manual errors: Rather than executing calculations manually or importing/exporting data from Excel, SoftLedger executes all calculations (including intercompany eliminations) for you.
Close the month faster: Consolidating multiple entities is usually a key issue that prevents firms from closing the books. Now that the consolidation process is automated, your team's time is free to invest in higher-level activities.
Make decisions based on accurate data: With small business accounting software, you won't have access to consolidated data until the month closes, making it impossible to make decisions based on accurate data. With SoftLedger, you can immediately access accurate data.
Minimize bloat: Most companies have to purchase add-ons for multi-entity consolidation, multi-currency consolidation, and other tools to make their accounting processes function properly. With SoftLedger, you can eliminate a lot of your stack because it executes many of these processes automatically.
If this sounds interesting, you're welcome to schedule a demo now or continue reading to learn more.
Access to a Fully Programmable API
Unlike legacy accounting software, SoftLedger uses REST API. This makes it easy for developers to build custom integrations. For example, if you want to pull in customer data from a specific fintech app, it's easy for developers to quickly build a custom integration with that app.
With small business accounting software, you're limited to the apps that software offers. Some legacy accounting software enables developers to build custom integrations, though doing so is often quite complex as it requires API developers to deal with legacy or proprietary protocols.
With SoftLedger, developers can execute these integrations in a fraction of the time, saving your company expensive human resources and enabling your engineers to focus on higher-value tasks.
Native Cryptocurrency Capabilities
Cryptocurrencies are becoming increasingly common in accounting processes, so accounting systems are scrambling to evolve and accommodate the increasing demand with add-on crypto tools.
Unfortunately, most of these add-ons were originally built for taxes and are rather clunky for accountants to use.
In addition, legacy accounting software isn't designed to accommodate the nuances of crypto accounting.
For example, most crypto entries require about 8-10 decimal places. So we've heard from some people that they had to record their crypto transactions as foreign currency (such as the Zimbabwe dollar) to accommodate the required decimal places. This adds another level of complexity as you now have to consolidate that foreign currency.
So we built SoftLedger to be the first crypto-native accounting platform.
Specifically, SoftLedger seamlessly integrates all of your cryptocurrency accounting data with the rest of your fiat accounting data to ensure you always have access to consolidated, real-time data.
Most importantly, SoftLedger automates laborious processes like cost basis calculations and even automatically records journal entries for you. You can see the walkthrough below:
This way, you never have to export any data or perform any calculations manually, which frees up your team's time to focus on other projects and gives you peace of mind that all of the data entered is accurate.
Easy-To-Use, Yet Powerful
Finally, we wanted SoftLedger to be super easy to use yet still powerful enough to handle complex accounting processes.
Most customers can onboard in less than a week and our team is always open to feature requests and any customer feedback.
Selecting an Accounting Software for Your Needs
There are plenty of different accounting solutions for different needs. At SoftLedger, we've found that the best matches tend to be firms with multiple entities that want access to real-time data and more flexibility.
If that sounds like you, consider scheduling a demo today to see if SoftLedger is the right fit.
Consolidated Financial Statement: Process and Tools
Cloud Accounting Software: Most Popular for 2022